How to Impress Your Customers with Great Customer Service: 5 Strategies to Create an Effective Contact Center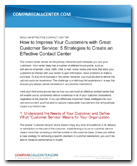 The contact center serves as the primary interaction point between you and your customers. To drive success, you must be able to deliver the optimal customer experience. Learn what steps to take to build an effective contact center that will enable you to consistently deliver excellent customer service.
Download your FREE copy of this report to get the proven strategies that will improve your contact center and your customer service.