Improving Customer Service in the Call Center: Best Practices for First Call Resolution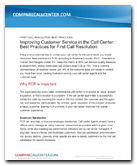 The last thing any business wants is customers calling back repeatedly, growing more frustrated each time, just to get a seemingly simple issue resolved. Improving first call resolution is one of the most important aspects of call center operations, and it's definitely something that all your agents need to be trained and consistent on.
Download your FREE copy of this report to learn the best ways to reach a high level of first call resolution across the call center.