Revolutionizing the Customer Experience: How 3 Contact Centers Were Empowered to Succeed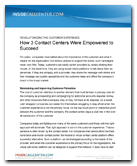 The most important aspect of call center operations is delivering a satisfying customer experience to callers, but that isn't always easy to achieve. For those businesses that use the call center to field questions and comments from customers, here are a few examples from different industries of companies that changed their customer experience through effective call center deployment.
Fill out the form below to access this FREE white paper offer.