Genesys Call Center Review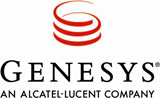 Company: Genesys Lab
Website: http://www.genesys.com
Genesys Lab, a subsidiary of Alcatel-Lucent, is a leading call center software provider.  Genesys Lab is completely dedicated to call center software and customer service.  Their solutions are used by over 4,000 companies around the world.  Genesys is a pioneer in computer telephony integration.  Their sophisticated solutions will help your company increase customer satisfaction and expand.

Genesys Lab Key Features
The Genesys contact center solutions provide advanced customer service and contact center capabilities.  The suite has a wide range of features, including customer data & applications, proactive business management, voice call center modules and more.  Below is a list of the Genesys Contact Center Software Suite's key features.
Genesys Contact Center Software Suite
Workforce Management – allows managers to track and manage the agents and customer interactions.
Reporting & Analytics – provides companies with real time reports to show how their ROI has changed and why.
Customer Interaction Portal – provides customers with resources to answer their own questions.
Speech Recognition – lets customers go through menu and have their questions answered by a machine.
Standout Features
Solutions are very scalable, as businesses can route almost 1 million contacts and over 40,000 emails per hour.
Genesys is the number one contact center software solution company, in the world.
Genesys is leading supplier of managed services call center software to managed service providers.
Thousands of business and government organizations use Genesys products to improve efficiency.
Technology
Genesys software solutions have CRM integration features.  The software is completely scalable.
Happy Customers
Virgin Mobile, Riverside National Bank, British Telecom, 1-800-FLOWERS.COM, The Canadian Pacific Railway
Support
There are self service tools and documents on Genesys' website that users can access for help.  Customer service representatives are also available by phone and email.
Bottom Line
Genesys Lab is a trustworthy company as its entire focus is call center software.  Their software is reliable, scalable and very useful.  Customer satisfaction is sure to increase along with overall revenue and business efficiency.  Thousands of businesses trust Genesys' products so your business can too.